Biography:
Where do I begin to tell my life's story? Let's try something different and start at the end, working our way all the way back to birth. I've tried my hand in a few different skill sets, but I'm a computer software engineer by profession. This is something that I very much enjoy, and I find myself quite fortunate to be one of the few individuals in this world that actually gets payed to do something he likes. I hope you don't take this for boastfulness, really it's just a great appreciation of the work that I (and others) put forth to realize my professional goals. In my career, I've used a huge variety of technologies and techniques, including designing and working with large relational databases, programming on resource-constrained embedded platforms, designing object-oriented software, developing multi-threaded and distributed systems, and I've even delved into the world of version control.
Outside the professional life, I currently live in Boston with my lovely wife, Beth. We first started seeing each other in 2008, and finally tied the knot in 2013. One of our shared obsessions is travel. For the past few years, we've spent a fair amount of shared time-off traveling around Europe, and we particularly love to visit Italy. The food, the beautiful scenery, and long history keep us coming back. As you might have expected, we took our honeymoon in Venice and Tuscany …what would travel be without a wonderful travel partner?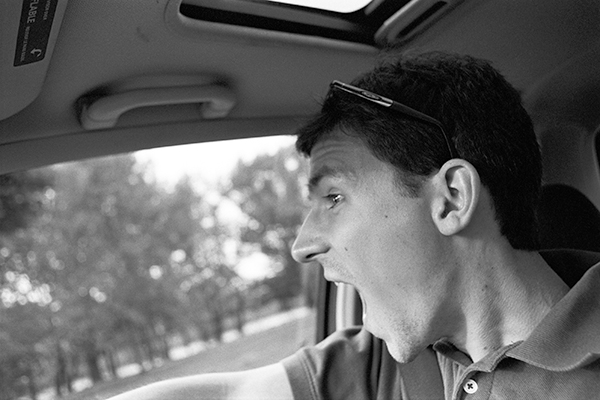 Probably my other favorite passion beside travel is photography. I've had various cameras from a very early age, and have quite a bit of hands-on knownledge of photography, but never actually had an opportunity to take a formal class until the final year of college.
I went to college at Northeastern University's College of Computer Science. Today, the university is a bit different from how it was back when I went there. I started as a freshman in late 1997, and one of the major things that drew me to Northeastern was their unconventional 5-year schedule that centered around long, real-world internships. Most universities today (and now Northeastern falls into this category) use semesters. This leaves only a short time during the summer months for internships and longer terms for class time. In my opinion, the shorter quarters provided a more targeted set of classes for students, with the opportunity to go to class for either 3/4 or 1/2 of the year (while gaining hand's-on experience with internships in the remaining time).
At Northeastern, I pursued my Bachelor's of Science degree in Computer Science for five long years (it was a five year program, of course). I had been writing computer programs in BASIC since the 2nd grade, and in C and C++ since junior year of high school, and I very much enjoyed myself. If you are a young girl and reading this… please consider computer science as a career choice! It is virtually all male right now, and I think that is very sad. It's a great place to meet nice, successful guys! …but I digress.
I grew a lot in college, and learned a great deal, but concentrated primarily on programming languages — how they are compiled, how they are optimized, and so forth. However, the administration at CCS tend to prefer that three-dimensional people emerge from their institution, so they required us to study a "subarea." Initially I chose Psychology, and it was rather interesting, but I enjoyed my Japanese language and Photography classes much more, so I petitioned the university to create a subarea for "Japanese Culture," and this became my subarea. With that last bit settled, I graduated into the "real world" in June of 2002.
My previous foray into the real world was not quite as fulfilling. Aside from a brief stint at a factory that made pins for computer chips, my first job was at the Burger King in Westford, MA. Apparently, Osco, Walgreen's, and CVS had far too stringent hiring requirements in Westford, so I settled for the Home of the Whopper — making $5.50 per hour. Sweet.
I moved to Westford for my Sophomore year of high school in 1995 (you can see the floorplan for my old room here). Aside from my studies at Westford Academy — one of the oldest public high schools in the area — I did a few extra-curricular activities (mostly ones that didn't require physical strength, as my height ranged from 5'2" – 5'7" through high school). I continued to ski, a pastime of mine since the grammar school days, and I was a columnist on the school newspaper, the Ghostwriter (which was a pun on the school mascot, the "Grey Ghosts"). In the end it was a positive move, but it's always difficult saying goodbye to friends you've known since the first grade.
The horrible school from which I came was Lowell Catholic High School. Here, I had an awful experience, with things like teachers crying in front of class, students bringing sawed-off shotguns into school and firing them off out back, teachers allegedly having illicit relations with their female freshman students, and myself being accused of "buying a term paper" (which was the teacher's way of telling me that it was too good to be my work, even though it was an honors class), as well as daily fisticuffs. After this amateur hour, it's no wonder that my parents had me transferred over to Westford Academy.
At the age of 9, I entered the Lowell little league system. The leage was OK, but The Billerica Little League is a really wonderful organization, and has some great alumni like (former major leaguers) Gary DiSarcina and Tom Glavine, so I decided to transfer over to Billerica. In 1991, my team won the American North Little League crown (of Billerica). Isn't that just super for me? I thought so. As the Yankees, we defeated the Billerica Red Sox… a native of Massachusetts, and a life-long Red Sox fan, I wouldn't have blamed the parents if they rooted against us, but they didn't!
"What the Hell is a 'Billerica?'" you may ask. Well, at the age of two, my family moved to the town of Billerica, MA. At the tender age of 4 years, I entered into Aerie Country Day School's preschool program. There, I learned how to take naps, count to four, and… that's pretty much it. After kindergarten, I went to catholic grammar school at Saint Margaret School in scenic Lowell, MA.
Let's go all the way back to my birth (if you'll endulge me). I know you're interested to hear my tale from start to finish, but be warned — this is just the abridged version. I wouldn't dare bore you with a three hundred page novel on the mundane details of one person's life. Now, imagine if you will… it's 1979, in Beth Israel Hospital, Boston. It's a sweltering hot day in August (the 27th to be exact). As I was being born, a warm breeze blew over the land — a land that would never be the same. Soon thereafter, I was relocated to Arlington, MA, a quiet suburb of Boston. Could life get much better than this for a 2 year old? Yes! But you've already heard that story. Such is the benefit of replaying one's life in reverse.